PLEASE NOTE: The
'Wicked Spirits' preview has been postponed until Tuesday August 2nd, the timings, 7 for 7.30, remain the same. Enquiries>
jonesjp@outlook.com
Lion Walk talks recommence for the Autumn Season on Tuesday 6th Sept with COLCHESTER IN THE 20th CENTURY – Presented by Colchester Film Makers.
In the meantime. don't miss this special Friends event … …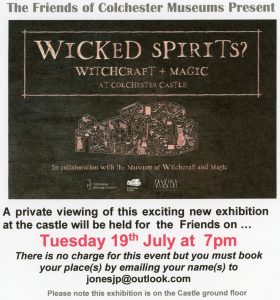 DON'T MISS THE IMPORTANT MEETING: 2022 AGM at 7pm 21st June Click for agenda> FOCM AGM 2022 …
followed by a lecture: Sir Bob Russell "A brief history of 45 Colchester schools"
PLEASE NOTE: 15th May – the church lift has been repaired and is now in operation.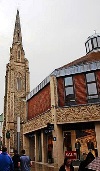 Illustrated lectures have started! Don't miss out. See LECTURES in top menu.
We're Back! Tuesday April 12th FOCM held their first live meeting since lockdown at Lion Walk Church. Seventy members listened enthralled to retired professional geologists Ian and Roz Mercer's talk  'Essex Rock', a 500 million year history of Essex. This told of when Essex was in Antarctica, when the dinosaurs roamed, Essex a seabed, ice and volcanoes and how the River Thames once ran around Colchester and met with the River Medway at Clacton. It was an inspiring evening and a fitting start to our new season of talks at Lion Walk Church.
<><><><><>
Statement from the Castle Museum February 23rd 2022: Museum Estate and Development Fund application: We were very disappointed not to receive an award from MEND, Museum Estate and Development Fund, which would have supported the repairs and decoration of Hollytrees and the Castle. We felt we had submitted a strong, clear application, but are aware of the many applications that would have been received by the Arts Council, perhaps from organisations that don't have the support structure that we do. We are now looking at other ways to finance these essential repairs, which of course will be supported by Colchester Borough Council and Colchester Borough Homes. A repairs programme will be defined soon, and we'll update you on progress when we can. We're very sorry, we know the buildings concern many of you, please be assured that the planned repairs and decorative work will still take place. And we won't stop trying to secure external funding where we can, despite this recent outcome!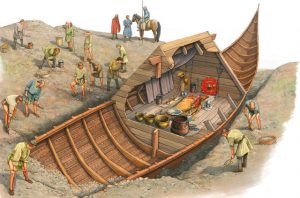 Zoom lecture, Sutton Hoo. If you missed it or want to see again? click Sutton Hoo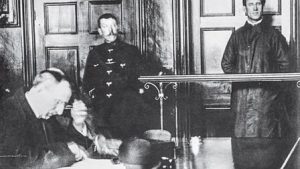 HITCHIN CORNER SHOP KILLINGS. Missed it or want to see it again? click> KILLINGS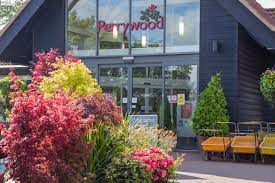 HISTORY OF PERRYWOODS GARDEN CENTRE If you missed it, or would like to see it again, here is the link, click> Perrywoods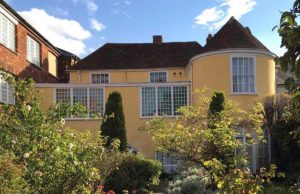 REVIVING GAINSBOROUGH'S HOUSE by Emma Boyd. If you missed it, or would like to see it again, click>Gainsborough's House
A recent Zoom lecture was MEDIEVAL COLCHESTER: EVIDENCE FROM WILLS by Sue Howlett of Mersea Museum. If you missed it, or would like to see it again, click> Medieval Colchester Evidence from Wills
AUTUMN LECTURES started 6th Sept with Patrick Denney THE GENTEEL CLASSES OF COLCHESTER AND THEIR HOMES for full list click 'Lectures' on top menu. IF YOU MISSED PATRICK'S LECTURE OR WOULD LIKE TO SEE IT AGAIN please click> The Genteel Class of Georgian Colchester
We have a proud history of informative illustrated talks – for a list of presentations over a decade see ARCHIVE and OTHER in the menu at the head of the page.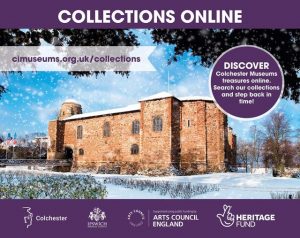 Colchester Museum's collections are now searchable online! 
Lots of information / pictures of artefacts and photographs through which you can explore thousands of years of history. Click> cimuseums.org.uk/collections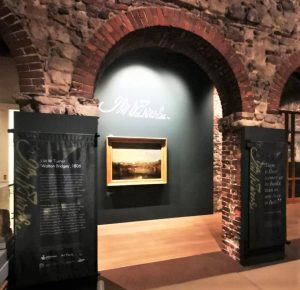 New Turner Exhibition at the Castle. Message from Pippa Pickles:
Our grateful thanks again to the Friends for the generous contribution enabling us to exhibit the Turner in the arcade space of the Castle. My photo does not do it justice, but it is a beautiful display.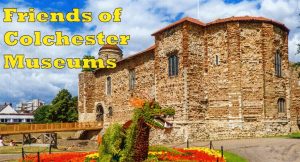 We're now on Facebook! Please click  https://www.facebook.com/pg/ColchesterHistoryFriends/
If you 'like' us and share with your friends and family it'll help spread the word and help us assist the museums even more! Thanks.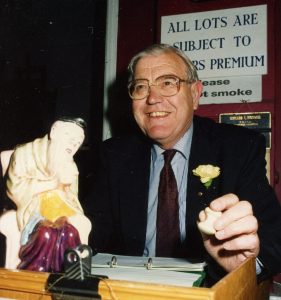 LEN DRINKELL (1927-2013) 
Len was an original member of the Friends, founded in 1949.

His memories in the form of a beautifully-illustrated Friends' 50th Anniversary Address (1999) are now available by clicking on  Archive / Other in the top menu.
  

  

ACQUISITIONS – Paintings "Portrait of Mrs Daniell" & "View at the Hythe"
A charming portrait of Ethel Daniell was painted 100 years ago by Frank Daniell. It was found in the attic of 8 East Hill, Colchester by Betty & Norman Warner (pictured with Mr Warner's Hythe painting) , who bought the house. It was damaged and they arranged repairs.  The Friends have acquired it to join the 22 other works by Frank Daniell in the Museum collection. Further details in 2016-17 Annual Report in ARCHIVE section, top menu.
 DANIELL PLAQUE – The Colchester Civic Society arranged for a blue plaque to be placed on the wall of 8 East Hill
The plaque reads "Frank Daniell, (1866-1932) artist and portrait painter lived here and 15a High Street". At the same time Norman Warner presented his own painting of a scene of the Hythe (above). The Museum has few views of industrial Colchester so it is very welcome.
 ACQUISITION – Mediaeval Seal Matrix
This was found in September 2015 during a metal detecting rally on farmland at Boxted, Essex.  Made of silver, set with a cornelian intaglio, or engraved gemstone, it dates to the period 1200 – 1400. Further details in January 2018 Newsletter in the ARCHIVE section, top menu.
[/vc_column_text][/vc_column][/vc_row]